Some of our range of Fusible Links
We now have sheet metal pressing equipment to make any link you require.
Photograph show an approximation of relative sizes of links.
For detailed sizing see technical drawings.
Customer testimonials
We supply a large range of UK, European and International companies large and small.
For example:-
Advanced Air Ltd.  International Motion Control
Wolseley UK.  Kidde Thorne.  Chubb Fire
BSB Engineering.  A1 Shutters.  Lindab.
Ascot Doors. Guthrie Douglas.  Cevac.
Grenzebach(Germany) Mercor (Poland)
ATAI (Arabian Thermal Air Industries, Saudi).

We also have the equipment whereby we are able to produce special links to your specification or from a sample to suit your requirements.  


EXTRA LENGTH LIGHT DUTY             LIGHT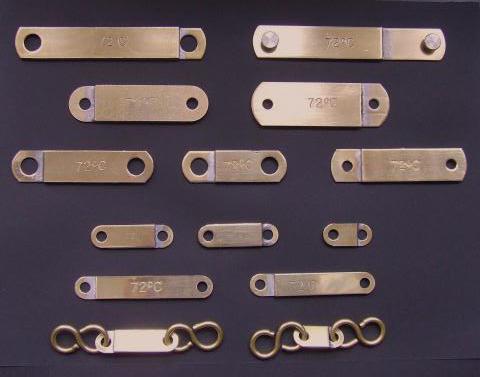 DUTY TYCO CENTRED
Standard LIGHT DUTY LINKS             ULTRA LIGHT DUTY LINK           
Standard Heavy Duty                             Ultra heavy duty
LIGHT DUTY CHAIN LINKS (S-HOOKS ATTACHED.)
CTP S2 (old WS2)                 CTPS1 (old WS1)                   CTTS WITH 6MM HOLES
LONG LIGHT DUTY                               LONG LIGHT DUTY
CTTS S3                                                            NO LONGER AVAILABLE     
C T Products,
2 Pincombe road
BIDEFORD
DEVON.
EX39 3Fx
Mobile: 07497813141
E Mail: ctpfusiblelinks@gmail.com
C T Products
  manufacturers of fusible links